Weekly news – 30 November 2018
Publikováno: 30. listopadu 2018
G20 leaders are meeting in Buenos Aires today at the annual summit of leaders of the 19 largest economies and the EU.
The G20 has been a frequent topic for Transparency International this year as we've put their uneven anti-corruption  efforts under a magnifying glass. You might remember that in April we published a report that found the G20 dragging its feeton implementing its own principles for combatting the shell companies that fuel corruption.
Just yesterday, police raided the HQ of Deutsche Bank, Germany's largest lender, over suspicions that employees helped clients set up shell companies in tax havens to dodge anti-money laundering rules. This highlights why we need coordinated global leadership on the issue from the G20, a group that is responsible for 85 per cent of global economic output.
Yet, despite more than 60 anti-corruption commitments from G20 leaders, it is profoundly disappointing that there is little evidence of any real progress.
Last summer, in an unprecedented show of solidarity, the Business 20 (B20), which represents the private sector, and the Civil 20 (C20), representing civil society, released two historic joint statements highlighting the crucial role of anti-corruptionin maintaining economic and financial stability.
As the G20 meets today in Buenos Aires, that message seems to be falling on deaf ears.
Which is why this week, in a last-ditch attempt to get G20 leaders to take the fight against corruption seriously, we and our Argentinian chapter Poder Ciudadano, have lined streets in Buenos Aires near the summit venue and delegations' hotels with posters saying "#G20TakeAction: Implement Your Anti-Corruption Commitments".
Even G20 leaders cannot miss the message. Whether they pay attention is another matter.
Use the #G20TakeAction hashtag and add your voice to the pressure on the G20 leaders.
News from Transparency International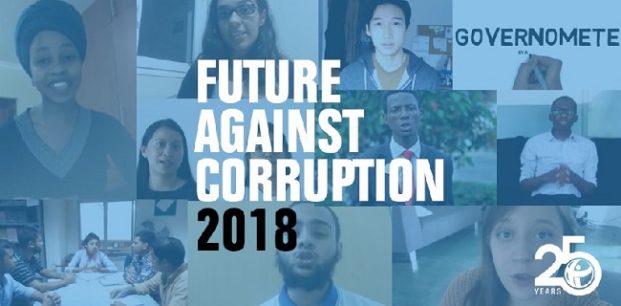 We are excited to announce the winners of the #FutureAgainstCorruption Award 2018. The winners were chosen from over 200 submissions, decided by a public vote combined with an expert judging panel. Check out the winners here!
New on Voices for Transparency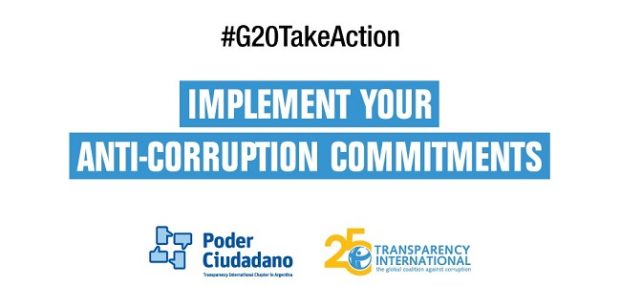 Grand corruption scandals have shaken confidence in G20 anti-corruption measures, and limited progress on beneficial ownership continues to facilitate corruption worldwide. Maria Emilia Berazategui from Poder Ciudadano, Transparency International's Argentinian chapter, analyses the G20's anti-corruption commitments.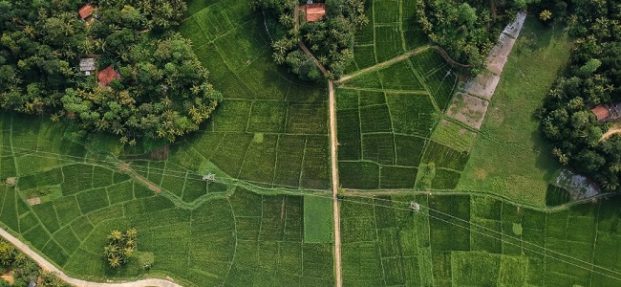 What would you do if you were denied access to your own piece of land, and the authorities not only refused to help, but actually allowed someone else to build a house on it? This is exactly what happened to Sivarasa, a mother of four children in Sri Lanka.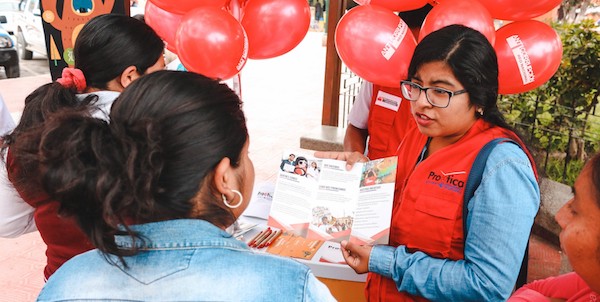 This blog is about how to implement social audit in 20 steps, building on lessons learned from fighting corruption in Guatemala, Peru and Ghana. It is based on Transparency International's Social Audit in 20 Steps report.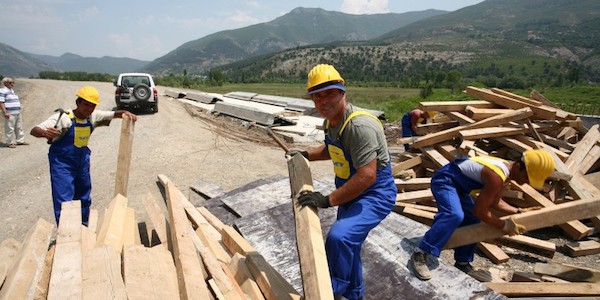 B20's latest communique shows why contract transparency is good for business. Read the full story here.
Your opinion wanted!
Transparency International invites you to share your opinion and feedback on our current and future website. Your anonymous answers will help us create a better design and overall user experience in our new website to be launched in 2019! Take the survey here.
Source: Transparency International
Yet, despite more than 60 anti-corruption commitments from G20 leaders, it is profoundly disappointing that there is little evidence of any real progress.