Weekly news – 26 January 2018
Publikováno: 26. ledna 2018
A lot of the world's attention has been on Davos in Switzerland this week, and the annual meeting of the World Economic Forum. Our Chair, Delia Ferreira Rubio, has been there taking the anti-corruption message to the high-level gathering of business and political leaders. But we want to focus on another high-level meeting taking place, which also has major significance for the global anti-corruption movement.
The African Union is holding its biannual summit in Addis Ababa this week and the organisation has declared 2018 the year of anti-corruption.
Indeed anti-corruption in Africa has already been a frequent topic this past week, with developments happening across the continent.
In Liberia, President George Weah was inaugurated on Monday. The former international footballer was elected as a political outsider pledging to clean up the government. We've seen elsewhere how these messages can fail to be delivered on, which is why we have made a series of recommendations to Weah's administration on how to follow through on their promises effectively.
This week saw the corruption trial in Portugal of Manuel Vicente – the former vice-president of Angola – and the Portuguese prosecutor he has been accused of paying off. The trial has raised tensions between the southern African nation and its former coloniser. Be sure to read more about this below.
We've also seen signs that Jacob Zuma – the president of South Africa embroiled in a massive corruption scandal – is being ejected from his party, the ANC.
Back in Davos, Zimbabwe's new President has been pushing a message that the country is "open for business" again after the long and corrupt reign of Robert Mugabe.
We all know the crippling effect that corrupt elites have had on nations in Africa and throughout the world. With a real commitment to accountability – and by working closely with civil society – we can see that change.
Manuel Vicente is the former head of the all-powerful Angolan state oil company Sonangol and was, until a few months ago, the vice-president of Angola. Now he is the main target of a high-profile corruption case that began on Monday in Lisbon.
Transparency International Russia published the report Transparency in Corporate Reporting: Assessing Russia's Largest Companies. It assesses the financial disclosure practices of 200 companies in Russia with respect to their anti-corruption programmes as well as the availability of information on their subsidiaries and foreign branches and payments to government.
This weekend, the 30th Assembly of Heads of States and Governments of the African Union (AU) will convene in Addis Ababa, Ethiopia to launch a new campaign with a single, important goal: to fight corruption across the continent.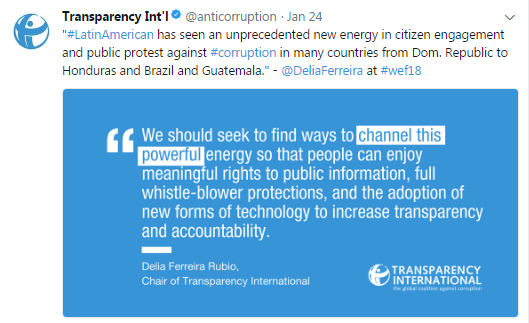 Top Stories
Source: Transparency International
With a real commitment to accountability - and by working closely with civil society - we can see that change.