Transparency International appeals to the public for supporting the whistleblowers protecting bill
Publikováno: 21. září 2015
Prague, 21. 9. 2015 – Transparency International Czech Republic is releasing campaign #Zapiskej (#Whistle), which aims to draw attention and tackle the issue of whistleblowing. Through campaign TI appeals to the public for signing the call at www.zapiskej.cz and thus supporting the pass of bill for protecting whistleblowers. Czech Republic lacks legislation in this area, yet this could be significant limitation for the corruption milieu. The photos of main campaign motives were taken by world-wide known photographer Antonín Kratochvíl.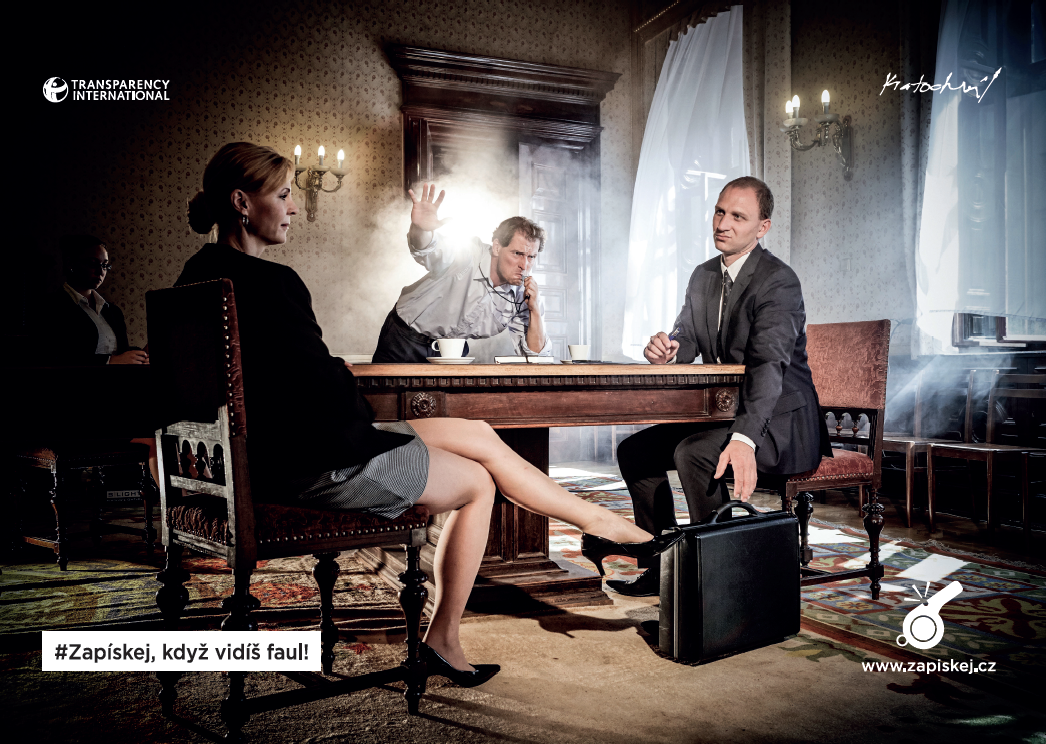 www.zapiskej.cz | photo: Antonín Kratochvíl
Currently, there is a debate on whistleblowers protection bill. Will the government fulfill its pledges and pass the bill of high qualities? TI starts campaign of public enlightenment and public call requesting specific recommendations for the bill. The call with signatures will be sent to Prime Minister Bohuslav Sobotka.
Our and STEM/MARK survey provides interesting data – almost 70 % of respondents has a positive view of whistleblowers. Yet only one fifth of those, who came into contact with abusive practices, reported the practice to the officials. According to ACCA every fifth financial director or accountant in Czech Republic had to deal with serious ethical dilemma in work.
We believe that this bill is essential to our fight with corruption. Whistleblowers are not only revealing abusive practices, but also can prevent significant financial loses – both in civil service and private sector. And it is not just about corruption, whistleblowers can also reveal other wrongdoing (ie. endangering of environment or human health). The more people will blow at www.zapiskej.cz, the louder our voice will be.
The campaign was prepared in cooperation with HAVAS Worldwide Prague and author of the photos Antonín Kratochvíl. Both had provided their services pro bono. "We should play fair – in sports, business and politics. Someone who is not playing fair is just a bastard for me. Because of those people I left to US. I want the Czech people not to fear to whistle, when there is a foul," Antonín Kratochvíl says. The same message has our radio spot recorded by him.
"TI Legal advice center works with whistleblowers in the long term. We know the problems they are dealing with from personal experience. Without proper legislation they will face to retaliatory measures, this we want to support our government in its effort to pass the bill for their protection. There is still many of the politicians, for whom is the issue controversial and they stand against any protection for whistleblowers," says Petr Leyer, head of TIC ALAC. 
OUR CRITERIA:
Protection of whistleblowers in both public and private sector regardless the position
Protection of reveals made in good faith and in public interest
Broad definition of abusive practices (not only crimes)
Protection of whistleblower's identity (possibility of anonymous revelations)
Labour-law and other protection of a whistleblower
Continuous and specialized law advisory
TI is dealing with the issue of whistleblowing in the long term, last year we published publication "Whistleblowing is not snitching: Handbook not just for whistleblowers" and whistleblowing is present also among our current cases. More at www.transparency.cz
Antonín Kratochvíl is a Czech-born photojournalist. He is a founding member of VII Photo Agency.
Support our pledge on www.zapiskej.cz
CONTACT:
Petr Leyer, Head of TIC ALAC                                  
E-mail: leyer@transparency.cz
Phone: +420 721 531 781
"We should play fair – in sports, business and politics. Someone who is not playing fair is just a bastard for me. Because of those people I left to US. I want the Czech people not to fear to whistle, when there is a foul."
Související publikace