Thousands in Brazil protest corruption scandal
Publikováno: 19. srpna 2015
Brazilians took to the streets of cities and towns across the country Sunday for anti-government protests being watched as a barometer of discontent with the increasingly unpopular President Dilma Rousseff.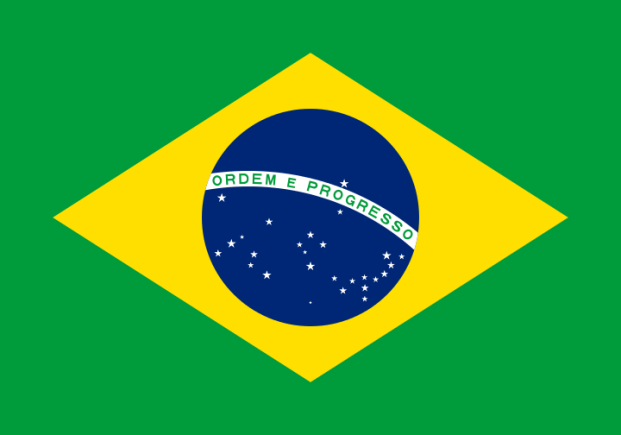 Flag of Brazil | source: Wikipedia.com
Called mostly by activist groups via social media, the demonstrations assailed Rousseff, whose standing in the polls has plunged amid a snowballing corruption scandal that has embroiled politicians from her Workers' Party as well as a sputtering economy, a weakening currency and rising inflation.
But the protests drew relatively modest crowds, likely giving the president some breathing room. Huge numbers had come out for two earlier rounds of demonstrations this year.
Turnout appeared significantly lower in Sao Paulo, Brazil's industrial and economic capital where dissatisfaction with Rousseff has run particularly high and protests in March and April drew thick crowds. The president's supporters also staged a small counter-demonstration in front of the offices of her mentor and predecessor as president, Luiz Inacio Lula da Silva.
The Datafolha polling firm estimated 135,000 people demonstrated against Rousseff on Sao Paulo's Avenida Paulista, one of the city's largest avenues, while state police put the number at 350,000. Crowd-counting experts have long criticized Brazilian police estimates, saying they overestimate crowds by relying on photos of only the most crowded areas to estimate a gathering. Datafolha breaks the avenue up into sections and gauges density for each section.
In Rio de Janeiro, several thousand people, many brandishing green and yellow Brazilian flags, demonstrated at Copacabana Beach. The demonstration was planned to coincide with a cycling test event for next year's Olympics in the city, but organizers changed the route and timing of the sports event to avoid a possible clash.
You can continue in reading on CBS.com.
But an end to corruption appeared to be a top demand. The widening probe into corruption at the state-run Petrobras oil company that began more than a year ago has exposed how widely official graft permeates Brazilian society, snaring top members of the Workers' and other political parties as well as executives of powerful construction companies.