Daphne Caruana Galizia and Ana Garrido Ramos winners of 2018 Anti-Corruption Award
Publikováno: 1. listopadu 2018
Transparency International proudly announces that the late Maltese journalist Daphne Caruana Galizia and Spanish whistleblower and campaigner Ana Garrido Ramos have been selected as winners of the 2018 Anti-Corruption Award. The awards were presented at a ceremony at the 18th International Anti-Corruption Conference (IACC) in Copenhagen this evening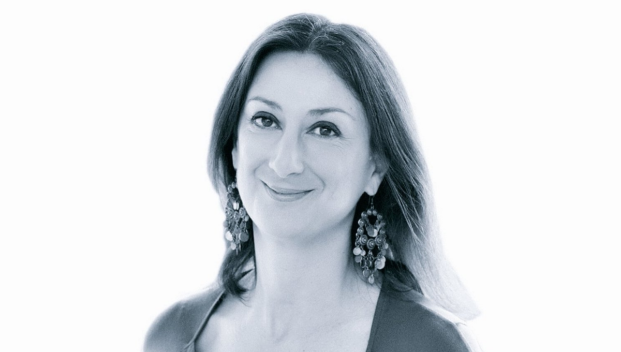 Daphne Caruana Galizia | source: TI
Daphne Caruana Galizia's son Matthew and husband Peter collected her award. Matthew Caruana Galizia said: "The bomb that took Daphne away from us extinguished the most powerful voice we ever had in our country's fight for integrity. It also sought to rob us of the hope that her unwavering voice represented. Nothing will ever compensate for the journalist – let alone the person – we lost in her fight against corruption. But this award reminds us not only that hope remains ours to keep but that a large part of the world is hoping with us. It is an overwhelming and deeply emboldening thought for everyone fighting to win her justice and uphold her legacy. Thank you."
Through her reporting, Daphne Caruana Galizia exposed corruption scandals involving influential politicians and others in Malta and abroad. Since her murder on October 16th, 2017, Maltese authorities have initiated criminal proceedings against her alleged killers, and an inquiry into whether anyone else should be charged.
Ms Caruana Galizia's family have asked the government of Malta to establish a public inquiry to investigate whether the Maltese state bears any responsibility for her death, either through its failure to protect her or as a result of any state complicity.
Daphne Caruana Galizia – Anti-Corruption Award Winner 2018 | source: TIIn 2009, Ana Garrido Ramos delivered a 300-page dossier to a Spanish trade union containing evidence of corrupt practices within the Boadilla Town Hall, her former place of employment. What began as an investigation into corruption in a local town hall expanded into a larger investigation, later dubbed the "Gürtel case". It exposed a scheme involving kickbacks for government contracts headed by a Spanish businessman who provided donations and bribes to the then-ruling People's Party. Her claims as a whistleblower and key witness contributed to the downfall of the Mariano Rajoy government in June 2018.
Due to her role as a whistleblower Ms Garrido Ramos has suffered a virulent campaign of harassment. She continues to fight for a law to protect whistleblowers in Spain.
Ana Garrido Ramos said: "Unfortunately, in Spain, the system ruins the life of the corruption complainant. On the other hand, the corrupt are usually rewarded with promotions and perks. Spain urgently needs an effective law to protect whistleblowers; it is an essential tool to eradicate corruption. But citizens cannot sit idly by waiting for the world to change, each of us must be part of that transformation. That which is not fought for is never achieved. There are no impossible goals, only people who do not struggle to achieve them."
Ana Garrido Ramos – Anti-Corruption Award Winner 2018 | source: TI
The Anti-Corruption Award honours remarkable organisations and individuals, including journalists, prosecutors, government officials, and civil society leaders who expose and fight corruption. A committee of seven people from the board of Transparency International and the wider anti-corruption movement serves as the jury. Nominations for this year's award were submitted by the public and Transparency International chapters.
We would like to kindly thank Exiger for supporting the Anti-Corruption Award.
Source: Transparency International